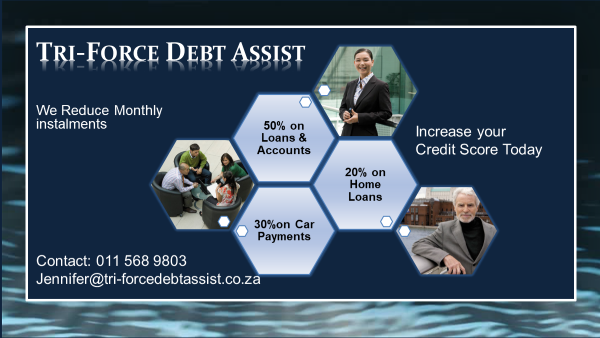 "WE DELIVER PEACE OF MIND"
COMPANY PROFILE
INTRODUCTION
We are debt relievers who are here to assist over -indebted consumers struggling with debt through advice, Negotiations with Credit Providers for Payments and structuring Debts.
MISSION STATEMENT
We reduce monthly obligation to affordable payment plans and negotiate with Creditors on your behalf.
VISION
To meet and exceed our client's security needs and requirements by providing them with unrivalled professional service. To collaborate, build partnerships, increase productivity and deliver the best service.
VALUES
Our people work at their best to take on big challenges, they become Self Critical, and are committed to making others better. This ripple effect continues to inspire individuals and companies across the country
OPERATIONS
Tri-Force Debt Assist operates their Head Office and Central point of administration from:
Shop 41 Northcliff shoping center
CNR Beyers Naude DR
RandBurg
2194
"We offer our services Nationally"
SERVICE
We reduce up to:
50% off (Clothing account, Furniture Account, Personal Loans, Credit Card, and Bank Overdrawn).

30%(Car Instalment)

20%( House Bond)
HOW THE PROCESS WORKS
Complete an application form and provide us with the details of all your credit provider.

We determine whether you are over-Indebted; meaning we do your monthly expenses and monthly income.

If you are over-indebted, we inform your credit providers and credit bureaus that you are under DEBT REVIEW. The credit providers will provide us with all the balance and other information in respect of your account.

We will restructure your payment plan and negotiate with credit providers, then your new payment plan will be sent to all your credit providers and this payment plan will take place.

The process will be completed then you must make your payment on time.
FEEL FREE TO CNTACT OUR TEAM ON
CONTACT DETAILS
JOHAN ELS (CEO

)

072 971 7003

OFFICE

011 568 9803